Do I Need a Mammogram?
Mammography is the best tool for detecting breast cancer early. But whether it's a lifesaver for women in their 40s has been debated. This is where the experts stand now.
---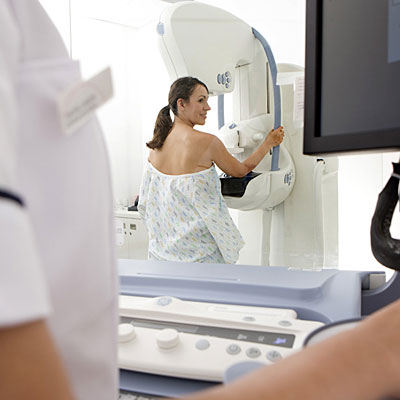 Over the last few years, mammograms have appeared in the news almost as much as Miley Cyrus—and they've been nearly as controversial. It seems like every week there's a new report that contradicts the last one. Start at 40! Start at 50! Get one every year! Every other year! Mammos are essential! Mammos are useless! Wait, what?
The current controversy kicked off in 2009, when the U.S. Preventive Services Task Force (USPSTF) recommended that women of average risk start routine screening for breast cancer at 50 instead of 40—sparking a national outcry. Many organizations, including the American College of Obstetricians and Gynecologists (ACOG), disagreed—and in 2011, ACOG changed its guidelines to advise that women not only start screening at 40 but also do so every year instead of every other, as the group had previously advocated.
The headlines that followed made things even more unclear. Last September, researchers at Massachusetts General Hospital found evidence suggesting that screening does save lives: Out of 1,840 women in their study who were diagnosed with invasive breast cancer in their 40s, 77 percent of those who died hadn't had a mammogram in the two years before the cancer was detected. But in February, Canadian researchers released contradictory findings: After tracking nearly 90,000 women age 40 to 59 for 25 years, they found that those who had had regular mammograms weren't any less likely to die of breast cancer than those who had only breast exams. Then, in April, Harvard researchers, looking at 50-plus years of data, published a study that came to a mixed conclusion: Mammograms do save lives, but they're a flawed tool with hazards of their own.
Confused? We were, too. So we asked more than two dozen leading women's health doctors to tell us what they think. The overwhelming consensus: Start having mammograms at age 40 and get screened at least every other year (ideally yearly).
Why Mammos Are Under Fire
The USPSTF made its recommendations based on research suggesting that the gains of getting regular cancer-screening mammos in your 40s may not outweigh the risks. For one, younger women have lower odds of developing breast cancer, so they don't benefit as much from screening.
RELATED: 25 Breast Cancer Myths Busted
And some studies show that women in their 40s who get mammos are more likely to have false positives—suspicious findings that prove to be nothing—than women in their 50s, says Therese Bevers, MD, professor in the department of clinical cancer prevention at the University of Texas MD Anderson Cancer Center in Houston. Simple math dictates that the more you screen, the greater your chances of having a scare: The latest Harvard review showed that 61 percent of women in their 40s and 50s who are screened annually for 10 years will have at least one false positive at some point. "Each scare can cause stress, anxiety, expense and sometimes even biopsies," says Nancy Keating, MD, the study's co-author (who believes it's reasonable for women of average risk to start screening at age 50).
Yet false positives are not, many experts insist, a reason to delay screening. "Most of my patients feel they'd rather undergo some tests to find out if a mass is benign than miss one that's malignant," says Elisa Port, MD, chief of breast surgery and director of the Dubin Breast Center at Mount Sinai Hospital in New York City. In fact, a new study published in April in JAMA Internal Medicine found that women who'd had false positives were no less likely to say they intended to get another mammogram in the next two years, compared with those who got negative results.
A more troubling issue is overdiagnosis. Mammos sometimes detect lesions that would never progress to life-threatening cancer, such as some cases of ductal carcinoma in situ (DCIS), in which abnormal cells are confined to the breasts' milk ducts. But since doctors can't always tell at first which growths are bad news, most are treated as if potentially lethal—which means as many as 19 percent of cancers diagnosed during screening are treated with unneeded surgery, radiation and/or chemotherapy, Dr. Keating says.
"That's not a problem with screening," argues Carolyn D. Runowicz, MD, a professor of obstetrics and gynecology at Florida International University's Herbert Wertheim College of Medicine in Miami. "It's a problem with science, which hasn't evolved to the point where it can always distinguish between benign and serious conditions."